Shelburne Falls Trolley Museum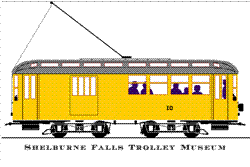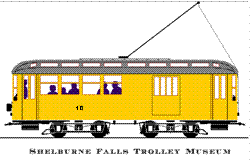 SFTM's Buildings
Trolley Car No.10 is back ... On track!
Part of Shelburne Falls Trolley Museum's mission is to preserve and interpret the historic buildings and other physical aspects of the Buckland Freight Yard.
Here is a ca 2004 view of our yard, showing also a little of the village of Shelburne Falls.




The Visitors Center and Freight House are labeled. Red outlines show things that have been removed, green shapes are additions since the picture.
1. The 1996 wooden Carbarn
2. Old Grain Shed, removed 2013
3. The new 2015 metal Carbarn
4. The Creamery foundation and freight dock were removed in 2014
5. A ramp for wheelchair access was added in 2006.
6. A new front porch with wheel chair access to the trolley was added in 2012
7. Trolley No. 10 waits for its next load of passengers
8. Our Main Line with overhead wire for trolley rides run along the edge of the parking lot here, parallel to the Main Railroad Line, Pam Am southern, ex Guilford Railway Systems, ex-Boston and Maine Railroad, ex-Fitchburg Railroad, ex-Troy and Greenfield Railroad
The passenger car and caboose and box car are beside No. 10. Also evident is the 0-4-0 Baldwin steam engine that was moved to Connecticut Eastern Railway Museum.
You may board at either end of the line. The Bridge of Flowers, McCuskers Market and other Buckland shops are just beyond the lower left corner of this picture.


Here are some links to pages about the individual buildings, as well as the new Car Barn.
1867 Freight House

New Car Barn Plans

New Car Barn Pictures

Old Grain Shed, removed

Pictures of the old H.P. Hood Creamery, the foundation as we acquired it, and its removal in 2014.

Coming soon,
the 1896 and 1910 Shelburne Falls Union Stations,
and the 1940's Grain Store/Warehouse/Agway Building/Visitors Center.
You can also see some pictures from the 1970's of the yard and buildings here.
---
Return to (none)
---
Trolley Car No.10 is back ... On track!
Go to Shelburne Falls Trolley Museum Homepage
14 Depot Street Shelburne Falls MA 01370 &nbsp&nbsp&nbsp&nbsp&nbsp&nbsp 413-625-9443 &nbsp&nbsp&nbsp&nbsp&nbsp trolley@sftm.org