Shelburne Falls Trolley Museum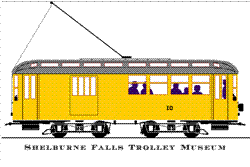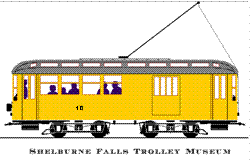 Things to do for Kids and Families
Trolley Car No.10 is back ... On track!
Every kid, large or small, loves the little yellow trolley of the Shelburne Falls Trolley Museum. Climb aboard trolley Number 10 for an historic fifteen minute ride in a trolley built in 1896.
In addition to the BIG trains, the museum features toy trains by Lionel and Thomas the Tank engine and his friends. There are lots of displays, including a real live big red caboose, and a pump car that bigger kids can ride with one of our volunteers attending.
Next door to the Shelburne Falls Trolley Museum is the Art Garden, with classes in art for all ages and a place to create great art.
After you have explored the Shelburne Falls Trolley Museum, take a stroll down to the beautiful Bridge of Flowers or watch the Deerfield River cascade across the "Glacial Potholes". Then, have lunch at one of the great affordable restaurants or an ice cream and other goodies at Mo's Fudge Factor or at Baker's Pharmacy's classic soda fountain ice cream parlor.
The Shelburne Falls Bowling Alley is at the end of a narrow alley off of Bridge Street.
There is a nice playground at the local Buckland-Shelburne elementary school.
The family should check out the attractions at Berkshire East with the Mountain Coaster, and for the more adventurous there are zip lines and whitewater rafting at Zoar Outdoor.
In nearby Deerfield, the world famous Yankee Candle features hundreds of scented candles, make your own candle, a candy store, toy store and a gigantic indoor Christmas village.
You can look for dinosaur fossils at Dinosaur and Fossils, let hundreds of butterflies land on you at the Butterfly Conservatory or stroll through a preserved 18th century village at Historic Deerfield.
There are so many exciting things for the family and kids to do in Shelburne Falls area and at the Shelburne Falls Trolley Museum.
---
Return to (none)
---
Trolley Car No.10 is back ... On track!
Go to Shelburne Falls Trolley Museum Homepage
14 Depot Street Shelburne Falls MA 01370 &nbsp&nbsp&nbsp&nbsp&nbsp&nbsp 413-625-9443 &nbsp&nbsp&nbsp&nbsp&nbsp trolley@sftm.org