Shelburne Falls Trolley Museum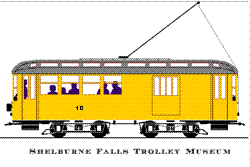 Raffle

Trolley Car No.10 is back ... On track!




The Raffle is over for this year, the winners have been notified. Thank you for your support, check back again next year!

Trolleyfest 2018 RAFFLE!

Please contribute to Shelburne Falls Trolley Museum's ongoing improvements by participating in our Raffle. All prizes are donated, so all proceeds help SFTM look better, be safer, be even more fun and be even more educational.

PRIZES

A) $20 Gift Certificate for Nancy Dole's Used Books and Ephemera
B) $25 Gift Certificate and XL T shirt from Ryan and Casey in Greenfld
C) Plant from Shelburne Farm and Garden
D) $25 Gift Certificate for Cold River Package Store and Market in Charlemont
E) A pair of wall plates titled "Cardinals in the Pine Grove" value $60/set
F) Bird feeder and 10 lbs of sunflower seeds from Aubuchon in Shelburne
G) Autographed copy of "Builders of the Hoosac Tunnel" by author Cliff Schexnayder, value $30 each
H) Gift Certificate for large pepperoni pizza and large t shirt from Cold River Cafe and Restaurant Value $35
I) Gift Certificate for 4 vouchers for 2019 season from Berkshire Scenic Railroad in Adams
J) $20 Gift Certificate for West End Pub
K) 2018-2019 Greenfld Lions Club Family Shoppers Gift Book, value $44.95
L) 2 Adult and 2 Childrens Coach tickets for the 2018 season(exp Dec 31) for Conway Scenic Railway, NH, Value up to $102.
M) $50.00 gift certificate for Blue Rock Restaurant


You can purchase tickets at the Museum when we are open, buying more increases your chances of winning. Get your friends to buy some too!

Drawing will be at Trolleyfest on September 29, you don't have to be present to win (but we'd love to see you!).
---

Trolley Car No.10 is back ... On track!
Go to Shelburne Falls Trolley Museum Homepage
14 Depot Street Shelburne Falls MA 01370 &nbsp&nbsp&nbsp&nbsp&nbsp&nbsp 413-625-9443 &nbsp&nbsp&nbsp&nbsp&nbsp trolley@sftm.org