Shelburne Falls Trolley Museum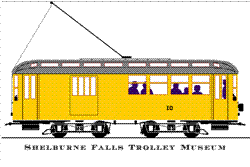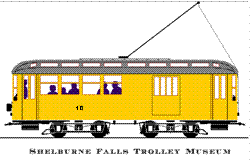 Photos of moving the caboose
Trolley Car No.10 is back ... On track!
Click on any image to see a larger version

In use as a pool side cabanna, since 1978, at the home of Dr. Frederick Hess in Shutesbury, MA. The shed kept rain off the leaky roof.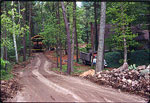 We had to build a road to get the lowboy and crane in to the caboose.


A lowboy was pushed under the caboose in the tight confines of the trees.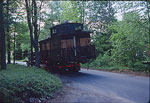 The caboose hits the open road.


Holding up traffic in Deerfield, MA.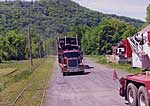 Here she comes through the railroad yard.


Lifting the caboose off the lowboy.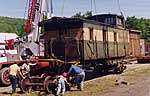 And down on to the trucks.


Reassembled, and awaiting restoration in 2000.


The caboose awaits resoration in the Shelburne Falls, MA railroad yard.
Please make an Online Donation for the Caboose Fund to support the ongoing restoration and preservation of this beautiful piece of history.
---
Return to the Rolling Stock page
---
Return to (none)
---
Trolley Car No.10 is back ... On track!
Go to Shelburne Falls Trolley Museum Homepage
14 Depot Street Shelburne Falls MA 01370 &nbsp&nbsp&nbsp&nbsp&nbsp&nbsp 413-625-9443 &nbsp&nbsp&nbsp&nbsp&nbsp trolley@sftm.org