Shelburne Falls Trolley Museum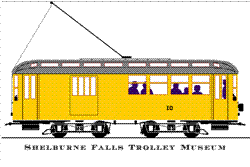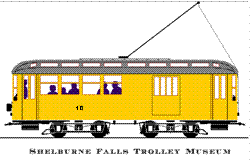 Photo Gallery Index

Trolley Car No.10 is back ... On track!




We will reopen for the 2021 season on Saturday July 3.
Click here for our Pandemic Notice.

Images from the 1970s. No. 10 as a tool shed, and some views of buildings in the Freight Yard area.

Images from 1997 and before. Shots of the car at the Johnson Farm, being moved, restoration and other rolling stock, as well as an overview of the yard.

Images from 1998 Trucks are acquired and installed, more woodworking, Steam 10 and a 1937 Osgood-Bradley coach arrive.

Images from Trolleyfest 1999 The first run of the restored No. 10, some spectacular fall foliage, along with some line work and other preparations.

Moving the new caboose The Shelburne Falls Trolley received the generous donation of a 1910 Central Vermont Caboose.

Aerial view of the Buckland Train Yard

Trolleyfest Images Each year we have a celebration of No. 10's restoration, called Trolleyfest. Here are some pictures from earlier years.

In 2004 the Train Safe train came to the museum.

Children's Art Museum renovation pictures.

Here are some pictures from 2006 when the pump car went up to White River Junction (by road) for Glory Days of the Railroads.

Image Policy: Use of these images is permitted as long as the words "Shelburne Falls Trolley Museum" are in the caption, and the photo is properly credited. NE Rail (New England Railroading email list) photos of Shelburne Falls Trolley Museum. Use of the NERail photos must comply with their use policy.
---
Trolley Car No.10 is back ... On track!
Go to Shelburne Falls Trolley Museum Homepage
14 Depot Street Shelburne Falls MA 01370 &nbsp&nbsp&nbsp&nbsp&nbsp&nbsp 413-625-9443 &nbsp&nbsp&nbsp&nbsp&nbsp trolley@sftm.org